My Big Fat Dynamics Book Review Post
Well here we are,
June 1st everybody!
Longer days, and more Sun - which is the best thing for me about summer time. All the extra time the Sun is out, gives me a chance that I can actually see it, and enjoy it. That is, when I can break away from focusing on client projects, or coming up with topics to write about for this blog. With that in mind, I wanted to kick off June with
My Big Fat Dynamics Book Review Post!
I mean, this time of year - at least for me, increases my study and focus. There is a break in the summer, sure - but before and after it's when I do a lot of reading. So with that, lets get to our first book up for review. The book I'm referring to is:
"Food Products Manufacturing Using Microsoft Dynamics AX" - By Dr. Scott Hamilton
.
Dr. Hamilton's books have been reviewed, highlighted and posted about in the past on this blog. Further Scott himself has given a few quotes, as well as interviewed for us in the past. See.:
Managing Process Manufacturing using Microsoft Dynamics AX 2009 by Dr. Scott Hamilton
as well as
Managing Your Supply Chain Using Microsoft Dynamics AX 2009 - Book Review
.
Let me start my review of Dr. Hamilton's latest book with a comment on the title. That is,
Don't let it limit your expectations
of what you can get from this book. Though the case studies used throughout the book are focused around FPM scenario's like Beer Manufacturing, or Orange Juice - the knowledge and content inside for processes, and conceptual thought for design scales beyond such focuses.
Easily throughout the book, topics that are covered for Sales Order Processing, Purchase Order Processing, or even parts if Item Definition, could apply across multiple verticals that an AX customer might exist in. That for me speaks not only to the power and flexibility of the product Microsoft Dynamics AX, but as well as the value of this book.
Dr. Hamilton, has given some insight through a series of articles he has written at
MSDynamicsWorld.com
, which you can locate here.:
MSDW: The AX Solution Architect
Further, it should be mentioned that this book has no screen shots. Dr. Hamilton clearly states what level this book is meant for, as well as on page 6 of his book, where he refers to another book that is focused more on screen shot approach for AX product knowledge.
Finally, Dr. Hamilton clearly states the target reader for this book, and I agree with him. Both Consultant & Customer alike, or prospect to become a customer - all would benefit from the knowledge in this book. Specifically, for those customer's using the Process Industries Functional Model for AX 2012.
I recommend this book
, and that's why it's apart of today's
Big Fat Dynamics Book Review Post!
Moving right along here, our next stop for this post is a
walk on the Social Side
, with fellow Dynamics Community contributor,
Jon Rivers Microsoft Partner Channel Manager for Data Masons.
His latest eBook,
"Solving the Social Media Puzzle for Microsoft Dynamics End Users"
is actually a counter part eBook to an earlier release focus on Social Media for Partners:
Social Media for Microsoft Dynamics Partners
.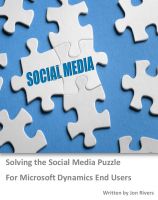 With his latest entry into the social fray, Jon takes the time and talks to the value of social media, how it's being used within the Microsoft Dynamics Community, and helps answering questions like:
"How can I leverage LinkedIn to connect to others within my vertical also using Microsoft Dynamics?"
Jon goes through, and creates an as-is chronicle of the current Dynamics Ecosystem landscape, for the majority of high value social tools that exist today. Further, Jon takes the time and touches on other tools on the rise, as well as an important point I try to do, in that
"Personally, I like to keep my personal social media activity separate from business"
- page 27.
Granted some might argue with the point of Facebook being low on the value metric, as there can be driven community marketing through it's network. Looking however how fast Facebook's stock has been dropping, Jon might be on-to-something. I will also acknowledge Jon including this blog, as well as some of my other social contribution's - and of course thank Jon for doing so - however the bigger point is back to the chronicle nature of the content around blogs. There are so many out there, just within the AX space along now, honestly I did not realize how many people where contributing to the body of knowledge for
Microsoft Dynamics
.
So,
I recommend this book
for those end users, new Customers, prospects and the alike who want an understanding of the social landscape that is the Dynamics Community - as well as how you can join in the conversation! Finally, Jon has been gracious enough to give this blog, and it's readers, a special coupon that will give you
100% Discount
if used before June 30th. The discount code, for Smashwords is.:
HJ87A
Make sure to visit the following link, so you can place your order with the 100% discount code today:
Solving the Social Media Puzzle for Microsoft Dynamics End Users
Now we have two book reviews down for
My Big Fat Dynamics Book Review Post
, and you say could there be more?
Yes there is!
The body of knowledge that represents Microsoft Dynamics continues to grow, and we are seeing that more and more everyday. Now we have a new type of book even to review. That's right, the
first ever iBook for the iPad
focus on Microsoft Dynamics AX has been released.
This first milestone for the Dynamics Community, and yes I think it is one, was authored by
Joel Leichty
. You can find Joel, on the twitter-sphere located:
@AXManuals
.
Let me say, this book is a great introduction to "Trade" for Microsoft Dynamics AX 2012. It covers topics like Products, Items, Sales Order as well as Purchase Orders - from an introductory point-of-view. Joel does a great job of using some of the awesome features that makes iBooks on the iPad stand out. In a typical text book style, Joel takes us on a progression that will have any novice, feeling pretty confident when they see and use some of the common forms that make up basic trade & logistics for AX 2012. Further, what makes iBooks awesome, is the ability to have rich media content as part of the iBook itself. In this, Joel takes and walks through clearly voiced how-to's for the topic and area of focus he is covering.
All-in-all, Joel breaking Dynamics into the iBook world, is well worth anyone who has an iPad and is needing introduction level functional use and knowledge for "Trade" with AX 2012. You can purchase Joel's iBook, from iTunes as the following location.:
Dynamics AX 2012 Trade
Well, I was not kidding that was one
Fat Dynamics Book Review Post
. I would like to thank each of the above authors, and everyone else, who continues to help grow the Dynamics Community as a whole. What's also amazing to me, and for sure a
sign of the times
, is I started this post with a traditional paperback book, and then moved into the generational shifts of sharing knowledge from eBook on to iBook. All three are great ways to share knowledge, and for you to gain it!
Well that's all I have in store for this
Big Fat Dynamics Book Review Post
. This should help fill up your reading list, and give you or your customers some value-added books, in all three of the current popular flavors! I hope you all have a wonderful weekend - and check back soon as next week we continue to dive into the Dynamics World we all live in.
Till Next Time!
Follow Me @:
"Visit the Dynamics AX Community Page today!"
Labels: AX 2012, Book Review, Dynamics AX, Dynamics AX 2012, Dynamics Communities, Food Manufactuing, Highlight, Joel, Jon, Process Industries, Scott Hamilton, Social Media, TL, Trade, Twitter